Daily Archives:
August 24, 2010
[Source: DowntownPhoenix.com]
In some parts of the country, August signals the end of summer.  Here in Phoenix, August seems to be the hottest month of the year and just teases you that cooler weather is still another six weeks away.
This got the Downtown Ambassadors thinking, what could we do to make August a little more bearable?  Maybe make summer something we Downtowners could look forward too?  The answer we came up with: pool party.
Okay, we admit, it's not the most unique idea.  We definitely aren't the only ones hosting pool parties Downtown, but we are the only ones who could convince the Hotel San Carlos to let us use their pool.  Matter of fact, as we walked up to check out the pool space, the door to the deck mysteriously opened for us – so we figured the San Carlos ghosts were happy to have pool parties back.
So on Friday (8/27), don your hippest poolwear and join us at the Hotel San Carlos for the inauguralDowntown Cooldown, a pool party hosted by the Downtown Phoenix Ambassadors.  We'll have a DJ along with food & drink specials from 6-10 p.m.  Then we'll keep the party going at the Ghost Lounge.  This is a 21 and over event. Tickets are $7 online and $10 at the door.
Bottoms up!
[Source: Phoenix Business Journal]
The first season back for the Arena Football League is in the books and the Arizona Rattlers ranked 4th in attendance out of 15 teams.
The Rattlers averaged 10,800 fans per game this AFL season, according to Arena Fan Inc.
That's fourth best behind a trio of Florida teams. The Tampa Bay Storm had the best attendance at 15,200 per game.
Scottsdale real estate investment exeutive Brett Bouchy is the managing partner of both the Rattlers and Predators. Both teams made the Arena league playoffs. The Spokane Shock won the Arena league title on Friday.
The Arena league was back this summer after taking a year off because of the down economy. The Rattlers play at US Airways Center in downtown Phoenix, which seats 16,100 for Arena ball.
The attendance for the Rattlers and the Florida teams is respectable considering the AFL was off for a year and the league is rebuilding its fan and sponsorship base. The AFL also did not have a lot of media exposure either in local market or nationally. Games were televised on the NFL Network and Rattlers games locally on KAZT-TV Channel 7.
Rattlers sponsors include the Phoenix New Times, Scottsdale Healthcare, NAPA Auto Parts and First Credit Union. The team is also in the midst of a season ticket sales push for next year.
Arena League attendance leaders:
Tampa Bay Shock: 15,200
Orlando Predators: 11,200
Jacksonville Sharks: 11,100
Arizona Rattlers: 10,800
Source: Arena Fan Inc.
Phoenix market attendance for current or most recent season:
Cardinals: 63,100, 99 percent full
Suns: 17,650, 96 percent full
Coyotes: 12,000, 69 percent full
Rattlers: 10,800, 67 percent full
Diamondbacks: 24,800, 51 percent full
Source: ESPN, Arena Fan Inc.
[Source: City of Phoenix Public Information Office]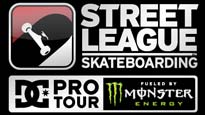 In association with Street League Skateboarding, the Rob Dyrdek Foundation is donating a world-class skate course from the DC Pro Tour fueled by Monster Energy held at Jobing.com Arena on Saturday Aug. 28th along with $50,000 in construction and design costs for a new skate plaza to the City of Phoenix. Rob Dyrdek, Mayor Phil Gordon, and Vice Mayor Michael Nowakowski will hold a press conference at 12:15pm on Tuesday, August 24th at PhoenixCity Hall (today).
Following six years of development, the Street League DC Pro Tour fueled by Monster Energy hits Glendale, Ariz. on Aug. 28th followed by Ontario, Calif. (Citizens Business Bank Arena) on Sept. 11th and the finale in Las Vegas, Nev. (Thomas & Mack Center) on Sept. 25th.  Street League Skateboarding offers a record-breaking $1.2 million purse and a revolutionary real-time scoring system that allows viewers to follow the action from the first trick to the very last.  Each event will air on ESPN2 every Wednesday at 8pm ET/5pm PT, Sept. 15th-29th. The exclusive roster of its 24 elite professional athletes is unprecedented in the world of skateboarding. Tickets and information are available at streetleague.com.
The partnership between the Rob Dyrdek Foundation (RDF), Street League Skateboarding and the City of Phoenix will yield the sixth "Safe Spot Skate Spot", a program developed by RDF to support legal and safe skate spots for communities interested in developing legal, skateable plazas for their youth and families.  Based on the skate plaza concept, the Safe Spot Skate Spot program provides an alternative option for communities with limited budgets or space restrictions to develop real street-skating locations.
"I'm excited that the collaboration between Street League Skateboarding and my foundation will result in the first Safe Spot Skate Spot in the City of Phoenix," said Rob Dyrdek, the Foundation's Founder and President. Dyrdek added, "We recognize that cities want to help their skateboarders but are often lacking funds or space and this concept provides the perfect solution for both. I want to thank the City of Phoenix, Mayor Gordon and Vice Mayor Nowakowski for their support of the skateboarding community and for all their help in making this possible."
Phoenix Vice Mayor Michael Nowakowski stated, "I'm thrilled to help bring a world-class skate course to my district. Residents have voiced concerns for additional recreational activities where they live and despite an economic downturn and budget cuts, we're still able to create this opportunity for youth and families.  We are honored and look forward to working with professional skateboarder Rob Dyrdek on this project. His passion for his sport, along with his willingness to provide resources to help share his love of skateboarding to our city's youth is admirable and truly appreciated.
About Street League Skateboarding ™
Street League Skateboarding™ (SLS) is the first sports entertainment property that gives Professional Street skateboarding its very own league for individual competition.  Street League features the exclusive participation of the world's best professionals, the most prize money in skateboarding history with a $1.2 MM purse, and real skate plaza course design inside world-class arenas.
Driven by the need to enhance the experience of live professional street skateboarding, Street League utilizes real-time scoring and a proprietary format that makes every trick count.  Street League is created and hosted by twenty-year professional skateboarder and entrepreneur, Rob Dyrdek.  SLS is the first contest series to construct real concrete skate plazas inside world-class arenas.
These plazas, designed by Dyrdek and California Skateparks (the worldwide leader in skatepark design and construction), signify a departure from traditional skate parks to resemble true street obstacles that would likely be found in any city plaza environment.
More information is available at streetleague.com.
About Rob Dyrdek Foundation
Founded in 2003, the Rob Dyrdek Foundation seeks to create healthy communities by promoting and providing the inherent benefits of skateboarding to all facets of society. The Foundation assists municipalities and non-profits with the design, development, and construction of legal Skate Plazas as well as assists with the creation of community and educational programs that promote and encourage the sport of skateboarding.
More information is available at robdyrdekfoundation.org.