Blog Archives
[Source: City of Phoenix Public Information Office]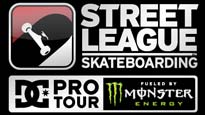 In association with Street League Skateboarding, the Rob Dyrdek Foundation is donating a world-class skate course from the DC Pro Tour fueled by Monster Energy held at Jobing.com Arena on Saturday Aug. 28th along with $50,000 in construction and design costs for a new skate plaza to the City of Phoenix. Rob Dyrdek, Mayor Phil Gordon, and Vice Mayor Michael Nowakowski will hold a press conference at 12:15pm on Tuesday, August 24th at PhoenixCity Hall (today).
Following six years of development, the Street League DC Pro Tour fueled by Monster Energy hits Glendale, Ariz. on Aug. 28th followed by Ontario, Calif. (Citizens Business Bank Arena) on Sept. 11th and the finale in Las Vegas, Nev. (Thomas & Mack Center) on Sept. 25th.  Street League Skateboarding offers a record-breaking $1.2 million purse and a revolutionary real-time scoring system that allows viewers to follow the action from the first trick to the very last.  Each event will air on ESPN2 every Wednesday at 8pm ET/5pm PT, Sept. 15th-29th. The exclusive roster of its 24 elite professional athletes is unprecedented in the world of skateboarding. Tickets and information are available at streetleague.com.
The partnership between the Rob Dyrdek Foundation (RDF), Street League Skateboarding and the City of Phoenix will yield the sixth "Safe Spot Skate Spot", a program developed by RDF to support legal and safe skate spots for communities interested in developing legal, skateable plazas for their youth and families.  Based on the skate plaza concept, the Safe Spot Skate Spot program provides an alternative option for communities with limited budgets or space restrictions to develop real street-skating locations.
"I'm excited that the collaboration between Street League Skateboarding and my foundation will result in the first Safe Spot Skate Spot in the City of Phoenix," said Rob Dyrdek, the Foundation's Founder and President. Dyrdek added, "We recognize that cities want to help their skateboarders but are often lacking funds or space and this concept provides the perfect solution for both. I want to thank the City of Phoenix, Mayor Gordon and Vice Mayor Nowakowski for their support of the skateboarding community and for all their help in making this possible."
Phoenix Vice Mayor Michael Nowakowski stated, "I'm thrilled to help bring a world-class skate course to my district. Residents have voiced concerns for additional recreational activities where they live and despite an economic downturn and budget cuts, we're still able to create this opportunity for youth and families.  We are honored and look forward to working with professional skateboarder Rob Dyrdek on this project. His passion for his sport, along with his willingness to provide resources to help share his love of skateboarding to our city's youth is admirable and truly appreciated.
About Street League Skateboarding ™
Street League Skateboarding™ (SLS) is the first sports entertainment property that gives Professional Street skateboarding its very own league for individual competition.  Street League features the exclusive participation of the world's best professionals, the most prize money in skateboarding history with a $1.2 MM purse, and real skate plaza course design inside world-class arenas.
Driven by the need to enhance the experience of live professional street skateboarding, Street League utilizes real-time scoring and a proprietary format that makes every trick count.  Street League is created and hosted by twenty-year professional skateboarder and entrepreneur, Rob Dyrdek.  SLS is the first contest series to construct real concrete skate plazas inside world-class arenas.
These plazas, designed by Dyrdek and California Skateparks (the worldwide leader in skatepark design and construction), signify a departure from traditional skate parks to resemble true street obstacles that would likely be found in any city plaza environment.
More information is available at streetleague.com.
About Rob Dyrdek Foundation
Founded in 2003, the Rob Dyrdek Foundation seeks to create healthy communities by promoting and providing the inherent benefits of skateboarding to all facets of society. The Foundation assists municipalities and non-profits with the design, development, and construction of legal Skate Plazas as well as assists with the creation of community and educational programs that promote and encourage the sport of skateboarding.
More information is available at robdyrdekfoundation.org.
[Source: Mike Sunnucks, Phoenix Business Journal] — A measure put forward at the Arizona Legislature would allow the city of Glendale to create a special tax district to help the Phoenix Coyotes and Jobing.com Arena.  The legislation, sponsored by Rep. Jerry Weiers, R-Phoenix, also could allow the city of Phoenix to establish a similar tax zone around US Airways Center downtown, where the Phoenix Suns play.
House Bill 2193 would allow Arizona cities to create special tax districts around enclosed, city-owned sports arenas.  Sales tax revenue collected within two miles of those venues would be earmarked for use by the arenas and for public infrastructure within their zones.  The cities also could issue bonds against the money to finance projects and the sports complexes' operations.
Weiers said earlier this week the bill is aimed at helping the Coyotes hockey team stay in the Valley.  The Coyotes are in Chapter 11 bankruptcy and have lost more than $300 million since moving to Arizona from Winnipeg in 1996.   The team currently is owned by the National Hockey League…
The bill would exclude University of Phoenix Stadium from a Glendale tax zone, Weiers said, because the measure limits the taxing districts to areas around enclosed arenas owned by Arizona cities.  That could allow a tax zone in downtown Phoenix, as US Airways Center is owned by the city of Phoenix.  But Chase Field and the Phoenix Convention Center would not be included in that tax zone.  [Note: Read the full article at Proposed tax zones could benefit Phoenix Coyotes and Suns arenas.]
[Source: Mike Sunnucks, Phoenix Business Journal] — The University of Phoenix Stadium outranks the region's other pro sports venues, according to fan surveys conducted by ESPN and the University of Oregon. The ESPN magazine survey asked 5,000 fans nationwide their impressions of pro sports teams, owners, stadiums, and arenas.
The UOP Stadium in Glendale, home to the Arizona Cardinals, ranked 24th on the list.  The Arizona Diamondbacks' Chase Field in downtown Phoenix came in 39th for stadium experience. Jobing.com Arena where the financially struggling Phoenix Coyotes play came in 72nd ahead of the Suns.  The Phoenix Suns' US Airways Center ranked 88th among the 122 pro sports franchise stadiums and arenas. [Note: To read the full article, click here.]